Smartly powered for modern adventure.
Welcome to the best of both worlds. The Subaru Crosstrek Hybrid gives you options without the compromises. It's the Subaru SUV you can plug in when you're running errands around town or gas up for your long weekend road trip. It's our most equipped and most fuel-efficient Crosstrek ever, and it's an IIHS 2022 TOP SAFETY PICK+.
Available at authorized Subaru retailers.
90 MPGe[1] with Subaru StarDrive Technology
The Crosstrek Hybrid uses Subaru StarDrive Technology to combine the efficiency of a plug-in electric vehicle for city commuting with the long-range capability of a SUBARU BOXER gasoline engine for road trips without limits. The gas engine charges the electric battery even if you can't plug in, so there's no worry about running out of electric power. The Crosstrek Hybrid provides up to 90 MPGe and up to 480 miles of total vehicle range[2], all with the confidence of Symmetrical All-Wheel Drive.
All of the power. All of the efficiency. All of the confidence.
Overview
Subaru StarDrive Technology is smartly designed to give you ultimate freedom. Simply drive how you want and this advanced system automatically optimizes power, torque, and fuel efficiency to deliver not only improved acceleration but up to 90 MPGe. Take on any adventure and leave worries behind.
Everyday Driving
The system will run on a combination of electric and gas power. To maximize efficiency, the Crosstrek Hybrid automatically draws power from the hybrid battery first. The battery also recharges by harnessing kinetic energy, such as when you're coasting downhill or whenever you take your foot off the throttle. The system can also draw more power from the gas engine when you need it. It constantly works to maximize power and efficiency so you don't have to worry about either.
All-Electric Power
The Crosstrek Hybrid will automatically drive in all-electric mode as much as possible, saving you fuel costs by achieving up to 90 MPGe while still delivering generous off-the-line power. When the weather turns, only Subaru gives you the confidence of standard Symmetrical All-Wheel Drive.
Battery-Saving
When you want to maintain the battery's charge level, Battery Save Mode directs the gas engine to provide most of the power while keeping the battery level as constant as possible. This is useful when you're taking a longer trip and plan to do more electric driving later.
Charging on the Go
The Crosstrek Hybrid battery automatically recharges while you're on the road. When the battery gets low, the gas engine will automatically start and begin to recharge. You can also charge the battery by driving in Battery Charge Mode, which directs the gas engine to charge the battery at all times, even when the vehicle is stopped – gaining up to 33% of battery capacity in 30 minutes of driving.
Plug-In Charging
You can charge the Crosstrek Hybrid at home using the included charger or anywhere with a standard outlet. When plugged into a 120V household outlet (Level 1), the Crosstrek Hybrid can take approximately five hours to completely charge a fully depleted battery. When using a 240V outlet (Level 2), a full charge only takes approximately two hours. Most commercial charging stations use the 240V charging capability, enabling faster charge times for your Crosstrek Hybrid.
Charge on the Go at Over 46,000 Charging Stations
Wherever your Crosstrek Hybrid takes you, chances are you'll be close to one of over 46,000 public Level 2 charging stations across the country through EVgo and EVgo roaming partners[3]. EVgo is the preferred charging partner of Subaru and the first public EV fast-charging network in the U.S. to be powered by 100% renewable energy.
A Value That Lasts
The Crosstrek Hybrid is a value that gets better with every mile – not just because it's a hybrid, but because it's a Subaru. 96% of Subaru vehicles sold in the last 10 years are still on the road today[4].
Better Commuting with Restricted Lane Access
The Subaru Crosstrek Hybrid is eligible for High-Occupancy Vehicle (HOV) lane access in select states[7], including California, Maryland, and New York, so your commute can be even more efficient and enjoyable.
Hybrid Incentives
State and local financial incentives, tax credits, and discounts may be available based on your location and employer.
Standard EyeSight Driver Assist Technology
Subaru EyeSight
The 2023 Crosstrek Hybrid features standard EyeSight Driver Assist Technology, which acts like an extra set of eyes on the road and, if need be, an extra foot on the brake when you drive[8]. EyeSight includes a number of advanced active safety systems to protect you and your family on every drive.
Pre-Collision Braking
Automatic Pre-Collision Braking helps you avoid or reduce frontal impacts by alerting you and applying full braking force in emergency situations. Pre-Collision Throttle Management can reduce the power from the engine to help minimize the possible impact force and frontal impact damage.
Adaptive Cruise Control
Adaptive Cruise Control[9] adds extra safety and convenience on every trip. Just choose the distance you want to keep from the car in front of you and it can take some of the stress out of everyday driving by helping with braking and throttle control while maintaining a safe distance ahead.
All-Around Awareness Technologies
The 2023 Crosstrek Hybrid features an entire suite of safety technologies to help protect you and your passengers. The standard Blind-Spot Detection[10] system warns you with a visual indicator on the side mirror if it senses a vehicle in your blind spots. Standard Rear Cross-Traffic Alert[10] helps warn you of traffic approaching from the side as you are backing up and a standard Rear-Vision Camera enhances visibility when reversing. With standard Reverse Automatic Braking, your vehicle can even stop itself to help avoid objects behind you[11].
SUBARU STARLINK Safety and Security
STARLINK Safety and Security[12] offers an array of connected services to help keep you and your Crosstrek Hybrid safe whether you're in your vehicle, at your computer, or on your smartphone. Advanced Automatic Collision Notification will alert an operator in the event of an accident. SOS Emergency Assistance can get you roadside help at the push of a button. Crosstrek Hybrid includes the STARLINK Security Plus package for 10 years. And there are even more features for added convenience and peace of mind, including Remote Services, Climate Control, Vehicle Alerts, and Stolen Vehicle Recovery. Also included is STARLINK Concierge service for personal assistance with tasks like navigation, restaurant reservations, and scheduling service appointments.
Explore STARLINK Safety and Security
Stylish, Spacious, and Modern
The smartly designed 2023 Crosstrek Hybrid provides a surprisingly spacious interior – with up to 100.8 cubic feet of passenger volume. That's more passenger space than the Toyota RAV4 Prime, Mini Cooper SE Countryman ALL4, or Lexus UX Hybrid[13]. Inside, you'll find a stylish, modern cabin with high-contrast navy and gray leather seats with blue stitching, standard heated front seats, and an available heated steering wheel.
Flexible Cargo Area and 60/40-Split Fold-Down Rear Seats
There's always room for more fun in the Crosstrek Hybrid. A wide rear gate opening – with convenient built-in cargo area light – makes bigger gear easier to load. With 60/40-split flat-folding rear seatbacks, you can fit three in the back with both rear seatbacks up or fold a seat down for extra cargo space.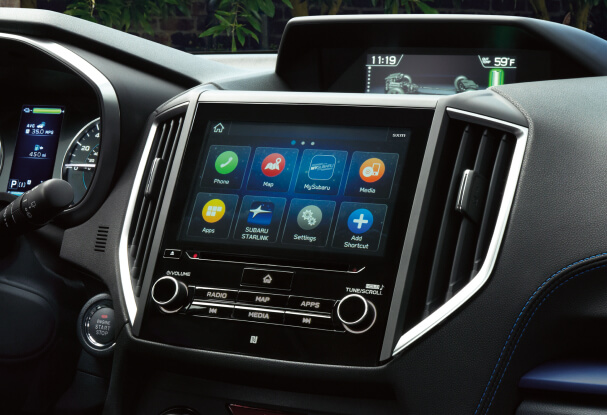 SUBARU STARLINK Multimedia
The 2023 Crosstrek Hybrid features STARLINK Multimedia with standard Apple CarPlay® and Android Auto™ integration[14]. Wireless Bluetooth® pairing and hands-free smartphone operation allow for safe and easy connection to your favorite apps and content. Access news, navigation, music, podcasts, and more through available SiriusXM®[15], including a four-month Platinum Plan trial subscription. An 8-inch touchscreen is standard and a built-in and voice-activated navigation system powered by TomTom® is available to help you find your new favorite place.
Learn more about SUBARU STARLINK Multimedia
Clean, Modern Style
The 2023 Crosstrek Hybrid showcases next-generation design as well as power, tweaking Crosstrek style with silver trim and offering a unique Lagoon Blue Pearl exterior color option.
Integrated Roof Rails
Standard low-profile roof rails and an extensive line of Thule® racking accessories provide cargo-carrying flexibility to help bring more gear wherever life takes you.
Standard Symmetrical All-Wheel Drive
Capability
The standard Symmetrical All-Wheel Drive system in the 2023 Crosstrek Hybrid is designed to optimize traction on rain, snow, bad roads, or even when there's no road at all. It constantly evaluates acceleration, braking, and cornering in real time to continuously deliver power to all four wheels. If a wheel slips, power is instantaneously transferred to the wheels that have the most grip.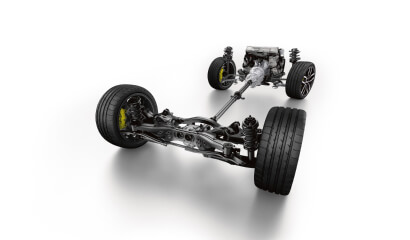 Stability and Control
With its exceptionally balanced layout, Subaru Symmetrical All-Wheel Drive delivers a solid connection with the road and an engaged, responsive drive. The entire system lies along the centerline of the vehicle, equalizing weight distribution between the two sides to help provide optimal performance and control.
Efficiency and Durability
At up to 90 MPGe[16], the 2023 Crosstrek Hybrid delivers outstanding fuel efficiency, and with the proven engineering and decades of adventure behind Symmetrical All-Wheel Drive – which has demonstrated its durability and low maintenance over four decades of owner-tested Subaru vehicles – you can be confident your Crosstrek will be with you for all the miles ahead.
Best-Performing and Most Efficient Crosstrek Ever
Our engineers designed the most efficient Crosstrek yet. With Subaru StarDrive Technology, the advanced hybrid drivetrain can instantly generate torque for effortless acceleration – which is more responsive and means you're always ready and nimble in traffic. With 1,000 pounds of towing capacity, you can bring along everything you need for your latest adventure.
Frequently Asked Questions
What is a plug-in hybrid vehicle?
A plug-in hybrid vehicle uses both an electric motor and gas-powered engine to optimize fuel efficiency and reduce vehicle emissions. The battery is large enough to enable electric-only operation, allowing the vehicle to be powered completely by its electric engine over limited range and can be charged at home or a charging station as well as by its gas-powered engine.
How can I charge the Crosstrek Hybrid and how do I find the closest charging station?
Owners can charge their vehicle at home or anywhere there's a 120V outlet using the included Level 1 charging cable – or at any charging station with a 240V/Level 2 charger. With the Charge Finder app, drivers are able to locate thousands of charging stations throughout the country on their STARLINK Multimedia screen.
Do I need to plug in the Hybrid before I drive it?
The Crosstrek Hybrid will run even if it's not charged, as it can be driven with gasoline by operating on the gas-powered SUBARU BOXER engine. However, in order to maximize fuel efficiency, it's recommended to charge the vehicle.
Do I need gas in the tank?
Yes. The Crosstrek Hybrid always requires gas as the vehicle will use the gas engine for power when certain conditions are met.
What is the expected driving range?
The Crosstrek Hybrid has a total range of up to 480 miles using both the electric- and gas-powered engines together and is capable of recharging the electric battery while driving. It can travel using only the electric motor for up to 17 miles. The Crosstrek Hybrid fuel tank holds 13.2 gallons.
How long does the Crosstrek Hybrid take to charge and how can I monitor charging status?
The time it takes to fully charge the Crosstrek Hybrid varies based on the charging option. Level 1 charging occurs when using the included 120V charging cable and can take approximately five hours to fully charge. Level 2 charging happens when using a 240V charger and can fill the battery in around two hours. Charging status can be monitored remotely through the MySubaru® app.
Is a charging cable included with the vehicle and where can I purchase additional chargers?
A Level 1 charging cable comes standard with the Crosstrek Hybrid. You can purchase additional Level 1 charging cables at your local authorized Subaru Crosstrek Hybrid retailer. Level 2 chargers for use at home can be purchased from a third-party provider. Level 2 charging stations should be installed by a professional licensed electrician.
What type of charger do I need to charge the Crosstrek Hybrid?
The Crosstrek Hybrid can be charged using a Level 1 (120V) or Level 2 (240V) charger. The vehicle cannot be charged using a DC charger or Tesla® Supercharger.
How long is the battery designed to last?
The battery is designed to last the life of the vehicle.
Can the Crosstrek Hybrid drive off-road?
Yes. The Crosstrek Hybrid is fully capable of driving in off-road conditions with its standard Symmetrical All-Wheel Drive. Consult your owner's manual for more details.
1 EPA-estimated MPG equivalent on a full battery charge. Actual mileage may vary.
2 Based on EPA-estimated hwy fuel economy and a full tank of fuel. Actual mileage and range may vary.
3 46,000 includes the EVgo charging network and roaming partners. Visit https://www.evgo.com/partner-roaming/.
4 Based on Experian Automotive non-luxury vehicles in operation (excluding trucks and vans) vs. total new registrations for MY2012-2021 as of December 2021.
7 Must apply and receive HOV lane access authorization from your state. Consult with your state government for the latest regulations and information.
8 EyeSight is a driver-assist system that may not operate optimally under all driving conditions. The Pre-Collision Braking System is designed to provide automatic braking that either prevents a collision or reduces the severity of a frontal impact. The driver is always responsible for safe and attentive driving. System effectiveness depends on many factors, such as vehicle maintenance, weather, and road conditions. See Owner's Manual for complete details on system operation and limitations.
9 EyeSight is a driver assist technology, which may not operate optimally under all driving conditions. The driver is always responsible for safe and attentive driving. System effectiveness depends on many factors such as vehicle maintenance, weather and road conditions. Pre-Collision Braking System is designed to provide automatic braking that either prevents a collision or reduces the severity of a frontal impact. Pre-Collision Throttle Management is designed to reduce acceleration and minimize the severity of certain frontal impacts. Adaptive Cruise Control and Brake Light Recognition are designed to assist the driver and are not substitutes for safe and attentive driving. Lane Departure and Sway Warning and Lane Keep Assist operate only when the lane markings are visible and system effectiveness depends on many factors. See your Owner's Manual for complete details on system operation and limitations.
10 Blind-Spot Detection, Lane Change Assist and Rear Cross-Traffic Alert are systems designed to assist the driver by monitoring the rear and side areas of the vehicle during a lane change or reversing and are not a substitute for safe and attentive driving.
11 Reverse Automatic Braking is a system designed to assist the driver by detecting objects to help avoid a possible collision when the vehicle is moving in a reverse direction. It is not a substitute for safe and attentive driving. System effectiveness depends on many factors such as vehicle maintenance, weather and road conditions. Always exercise caution and use vehicle mirrors and Rear-Vision Camera when backing up. See Owner's Manual for complete details on system operation and limitations.
12 Activation with subscription required. Includes a three-year trial subscription to Safety Plus services and a six-month trial subscription to Safety and Security Plus services. The Concierge plan can be purchased annually or monthly. A credit card on file will be required for specific packages and for renewal purposes. Features and availability vary by vehicle and trim level. May not be available in all states. See Retailer for details.
13 Based on competitor information from manufacturer websites as of September 2022.
14 Compatible smartphone and application required. For applications to operate, latest version of each application required. Data provided by smartphone is displayed on head unit screen. Some state laws prohibit the operation of handheld electronic devices while operating a vehicle. Smartphone apps should only be launched when vehicle is safely parked. Your wireless carrier's rates may apply.
15 All SiriusXM services require a subscription, sold separately by SiriusXM after the trial period. Your SiriusXM service will automatically stop at the end of your trial unless you decide to subscribe. If you decide to continue service, the subscription plan chosen will automatically renew and be charged according to your chosen payment method at the then-current rates. Fees and taxes apply. See the SiriusXM Customer Agreement & Privacy Policy at www.siriusxm.com for full terms and how to cancel, which includes online methods or calling 1-866-635-2349. Available in the 48 contiguous United States, D.C., and Puerto Rico (with coverage limits and capable receiver). Visit http://www.siriusxm.com/FAQS for most current service area information. Availability of some services and features is subject to device capabilities and location restrictions. All fees, content and features are subject to change. SiriusXM, Pandora and all related logos are trademarks of Sirius XM Radio Inc. and its respective subsidiaries.
16 EPA-estimated MPG equivalent on a full battery charge. Actual mileage may vary.