The 2020 Subaru Love Promise Customer and Community Commitment Award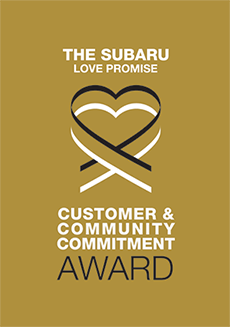 We've been nationally recognized for our dedication to our customers, our community, and the Subaru Love Promise.
We're honored to receive the 2020 Subaru Love Promise Customer and Community Commitment Award. This award nationally recognizes elite Subaru retailers who provide an exceptional customer experience at every interaction with Subaru. These retailers have also demonstrated an outstanding commitment to supporting passions and causes in their local communities in important areas such as the environment, community, health, education, and pets.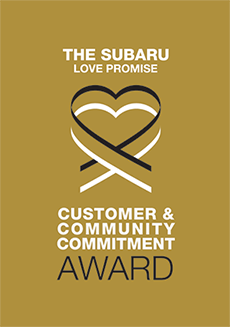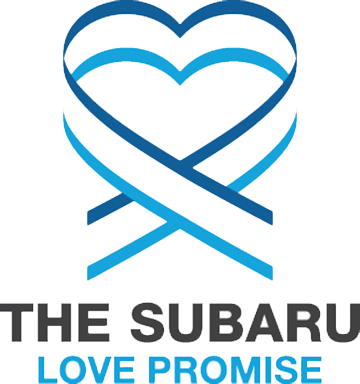 What is the Subaru Love Promise?
Subaru and our retailers believe in making the world a better place and the Subaru Love Promise is our vision of respecting all people. This is our commitment to show love and respect to our customers and to work to make a positive impact in the world.
How is Capital Subaru of Greenville dedicated locally to the Love Promise?
Our Love Promise can be seen in various partnerships with the Pitt County Animal Shelter as well as several local charities and community organizations. We're grateful for the opportunity, not only to be a part of our community, but to serve it as well.
Pitt County Animal Shelter, Humane Society of Eastern North Carolina
South Central High School
Winterville Police Dept, Greenville Police Dept., Pitt County Sheriffs Office
East Carolina Road Racing
Love Promise Stories from Capital Subaru of Greenville
Subaru and Capital Subaru of Greenville believe in making a positive impact on the communities in which we live and work. We uphold that belief through our Love Promise Community Commitment. Every month, we select inspiring stories from customers and partners from around our area who strive to support our collective commitment and feature them here
Make a Dog's Day! - Humane Society of E
Capital Subaru of Greenville has done it again! They have always gone above and beyond for the Humane Society of Eastern, and this time is no different. We received a check for $6,100 thanks to the Make a Dog's Day campaign. We partnered with Capital Subaru of Greenville on this campaign to sponsor all the adoption fees for all animals adopted in October. This wonderful opportunity waived adoption fees for 18 cats and 29 dogs! We can not thank them enough for always helping the animals in need in Eastern NC!
---
Capital Subaru of Greenville Saves MANY LIVES! - Shelby J
I have been the Director of the Humane Society of Eastern Carolina for a few years now, and we have always partnered with Capital Subaru of Greenville. The staff at Capital Subaru of Greenville love their community and the animals in it. They go above and beyond to make sure to help us find loving homes for all the animals in our care. They donate money as well as their time in making the community a better place for all. They have come to many events that we have had supporting families with pets. We have had a few adoption events with them, as well. They do a lot for the animal community, and we are very thankful that their dedication has been a huge factor in us saving lives. Thank you, Capital Subaru of Greenville, for helping us help them!
---
Blankets for the Homeless - ken b
My name is Ken Baker and I am the director of Community Crossroads. We are the largest shelter for the homeless in Greenville, NC. Mr. Barbour from Capital Subaru of Greenville contacted me about the Loves to Care program and informed me his dealership had chosen us for blanket distribution. With Covid cases rising this couldn't have come at a better time because even though people are staying home our clients are rising especially with the weather getting colder. Donations have been down and the Subaru program was perfect. It takes a whole community to support us in what we offer and Capital Subaru of Greenville really stepped up. Thank you
---
Capital Subaru of Greenville LOVES PETS! - Mellanice M
Capital Subaru of Greenville partnered with The Humane Society of Eastern Carolina to help find forever homes for these lovable animals. The Humane Society of Eastern Carolina is a private non-profit 501c3 organization that provides temporary housing, feeding, and medical care to animals in need. Their mission is to serve as a safe haven for homeless and neglected pets until they find their forever home and to serve as a resource to the community. They were the perfect partner for Subaru Loves Pets, and for us here at Capital Subaru of Greenville to find these awesome animals forever homes. We hosted an event on Saturday 10/24/2020 from 10am until 3pm and were able to find 3 animals great forever homes. Any day a dog is adopted is a good day. To find 3 animals forever homes is an amazing day!
---
Mountain Vacation - Russell S
In mid-August, I purchased a 2020 Outback Touring XT from Capital Subaru in Greenville, NC. In mid-September, we drove it to Blowing Rock, NC for a family vacation. The 2nd day there the rear glass shattered and collapsed into the vehicle. It is still a mystery as to what happened. I called service manager Ryan at Capital and explained my situation. He in turn spoke to sales manager Wayne Barbour who the next morning had them trailer a new Outback and deliver to me in Blowing Rock. That's a 5-hour trip one way! They loaded the damaged vehicle and returned to Greenville for repairs. Within a few days, the glass was replaced and ready for delivery. Subaru covered the entire experience through warranty. I've been in business myself for 39 years and take great pride in our customer service. Capital Subaru outdid themselves! Their customer service is off the charts! I highly recommend you look into purchasing a Subaru from Capital Subaru in Greenville, NC.
---
Service Experience - Paul R
Hi Wayne, I wanted to write and let you know that your team is super. (& the folks at Subaru America too). I have had my 2019 Forester at your place for the past month getting new parts put in as a result of a blown PCV valve. From the time the tow truck dropped it off to the time I picked up my car yesterday, the service department has been fantastic. They call me and let me know what's going on throughout the month. I bought my first Subaru at ABC Subaru and my current one at ABC Subaru the next one will be from you all. The service folks were awesome, and I think oddly the cherry on top of the service was, they wear masks. I was worried about people not wearing one. It was just a natural thing. I hope my car will be "OK" now, and I know if it's not, I have a new dealer I can call my Subaru dealer now. I always thought Raleigh was closer but you all are actually traffic free and convenient. Thanks, Paul
---
Make a Dog's Day - Andy A
Subaru is proud to establish the first-ever National Make A Dog's Day October 22nd. As part of Subaru Loves Pets month, we're inviting all dog lovers to do something extra special for their furry best friends. Plus, Subaru will be focusing our efforts on helping the hardest-to-adopt shelter Dogs –those with special needs-find homes. Get ready to fall in love withThe Underdogs. #MakeADogsDay Meet Gabi! Gabi has been at the Humane Society of NWGA (Northwest Georgia) for seven years. If you asked the volunteers to pick their favorite animal at the shelter, Gabi would win hands down. She does not do well with dogs or cats so must be the only animal in an adult only family. She loves people and will bond very quickly to you. Gabi would make someone a great companion. She is waiting patiently for her forever home. If you have room in your heart and your home for this sweet girl then please fill out an adoption application, highlight and right click this link: https://hsnwga.org/adoption/application-for-adoption/?fbclid=IwAR2Ie18p6U3ryKi-niIuIZFTd-waD98xrySl7IJmiRBXE239WP7dpODubiU #MakeADogsDay #SubaruLovesPets #TheUnderdogs
---
Share the Love Humane Society of Eastern Carolina - Martina C
The Humane Society of Eastern Carolina (HSEC) could not be more pleased to be the recipients of the 2018 Subaru Share the Love Campaign. The very generous check for $22, 289 was beyond any expectations we had for this year. We coordinated the check presentation with the start of our 2019 Fluff and Puff Dog Wash series which we traditionally start at Capital Subaru each year. This took place April 20, 2019 from 10-12, and we made $700 washing dogs, which was excellent for a day before Easter. The check has been earmarked to start a fund to either renovate or add an additional building(s) (the Board are weighing both options as to which is best for a long-term option) to allow us to save more dogs and cats from area shelters thus reducing the euthanasia rate. Our current facility hampers our efforts to save more and this $22K+ is a great starting amount. It may take a few years to get enough funding but as a 501c3 non-profit, we also have other things to pay for such as meds, vaccinations, spays/neuters, emergency vet fees, employee salaries. So, to have money to designate strictly to a building fund is a luxury for us.
---
2019 Accelerating the Future - Erin G
Capital Subaru of Greenville North Carolina was a premier sponsor for the Pitt Community College Foundation spring scholarship event, Accelerating the Future, held at the Pitt-Greenville Airport on Friday, March 15th. Capital Subaru recognizes the importance of assisting students in furthering their education at Pitt Community College. Over 65% of students at PCC need some sort of financial assistance. We are so grateful to Capital Subaru for not only supporting PCC but the community they belong too!
---
You Get Back What You Give - Kella W
Dear Subaru, As an employee of the local public school system, I have always believed in giving and it will be given back to you. Luke 6:38 This motto proves true in everything we do. I feel that the Subaru dealers have realized this as well. The good deeds that are performed through the Love Promise campaign is a perfect example of how Subaru receives back in loyal car owners what they give through their support in our communities. Here locally for me in Eastern North Carolina, I am so happy that Capital Subaru gives back to the Humane Society of Eastern Carolina. With the recent flooding here in the Pitt County area, our local Humane Society has been at capacity with dogs and cats. So, the contributions made by Capital Subaru are definitely appreciated and well deserved. Thanks again Capital Subaru for making a difference and remember to give and it will be given back to you!! K. Williams
---
32nd Annual Fiesta Biathlon - Tony P
Greenville, NC, is all about one word... community! And when I spoke with Wayne Barbour from Capital Subaru of Greenville about the Biathlon and how this event is truly a community celebration of activity and the need to be outside, he did not even hesitate to say... yes! Our goal this year was to raise money for our local MS Society cycling group, The Pedaling Pirates. This group of caring cyclists will travel to ride in the Historic New Bern MS ride this fall, and will be a part of a larger group who raise funds for MS Research. Because of the support from Wayne and his Subaru Team, we surpassed our goal and were able to give more than expected. All of this because of commitment. Subaru epitomizes an active lifestyle and genuinely believes that everyone should do their best to go and explore. Perhaps not by climbing Mt Everest, but by visiting a local park, or by challenging ourselves by pushing past our mental and emotional limits and seeing what we can do, all the while having fun. The Fiesta Biathlon has always been such an event, fast for the experienced, and an experience for the beginner. We are proud that Subaru has recognized us a such for two years now! As we say, and we are sure Subaru endorses... now go outside and play!
---
Thank YOU Capital Subaru - Erin G
Since 2002, the Down East Holiday Show has been the unofficial start of the holiday shopping season in eastern North Carolina. Each year, the event draws more than 10,000 shoppers and 175 vendors to the Greenville Convention Center to benefit a great cause. Presented by the Pitt Community College Foundation, the Holiday Show generates revenue for student scholarships and educational programs at PCC. Local businesses that sponsor the show play a key role in the success of students pursuing their educational goals at Pitt. We cannot thank Capital Subaru enough for partnering with the PCC Foundation to ensure higher education is accessible to all who want it. With you in our corner, we look forward to another great Down East Holiday Show in 2017 and for many years to come!
---
Discovering A "Triple Threat" - Cathy B
Scott Welch, GM of Greenville, NC's Capital Subaru, was truly engaged in the entire Subaru Loves to Care blanket initiative with The Leukemia & Lymphoma Society, NC Chapter (LLS NC), so the level of involvement of his staff comes as no surprise. Scott had just completed shooting 3 commercials (complete with costume changes), when the LLS staff arrived, yet he was excited and ready to deliver the blankets to Leo W. Jenkins Cancer Center as scheduled. One of the hospital staff members, Mary Beth, an RN in the Cancer Center, shared an interesting fact with us, and she has now been dubbed "The Triple Threat". Mary Beth fought and survived lymphoma last year after being treated at the same cancer center where she works. Additionally, Mary Beth is the proud owner of a Subaru purchased at Capital Subaru- hence the triple threat: she is a blood cancer patient, an employee of Leo W. Jenkins Cancer Center and a happy, Subaru driver, too!
---
Fiesta Biathlon - Tony P
Thank you so much to Capital Subaru for supporting the 31st Annual Fiesta Biathlon this year. It was a leap of faith for you to support new race directors, and both Delia and I appreciate it deeply.The Fiesta Biathlon is a hometown race with tradition. For 31 years this event has been held in the uptown area of Greenville, and has attracted athletes and families from around Eastern North Carolina. These are people who enjoy getting outside and participating in life, rather than just being bystanders. This year we are expanding our reach by asking the newest group of athletes... the "adult onset" athletes to give this race a shot. It is a perfect race for all abilities, for the experienced it is flat and fast, and for the new, it offers the experience of a lifetime. This year the benefactor of the Fiesta was FROGGs, otherwise known as The Friends of Greenville Greenways. Their work has been instrumental in adding enhancements to Greenville's greenways such as benches, shade gardens, an informational signs. Our greenways have helped people enjoy being outside and discovering the joy of moving! After it was all over, I have to say my favorite part of the race was when the last rider finished and everybody gave her a rousing round of applause. She did it, she finished her biathlon, and had a smile on her face! It is those very small victories that make this so worthwhile! Thank you again, Capital Subaru! We look forward to The 32nd Annual Fiesta Biathlon!
---
Free Delivery - Kelsey K
One of the many services capital Subaru provides is free delivery on all vehicle sales. While this is a common service, not many customers take advantage of it. However, the ones that tend to the most are parents with family members overseas. It can be hard for a single parent to do it all so we want to help in any way we can. By delivering the vehicle free of charge and picking up the trade in it saves many parents the extra trip of getting the kids out of the house and around town.
---
Subaru Share the Love Event - Kelsey K
A portion of each sale from last year's Share the Love event was donated to the Humane Society of Eastern Carolina. On Saturday, March 25th, Capital Subaru held a Pet Adoption event and presented a check worth $14,746 to the HSEC. We hope this contribution will help the HSEC continue to find Fur-ever homes for a lot of lucky animals!
---
Leo W. Jackson Cancer Center Blanket Donation - Kelsey K
On August 24, 2016 Capital Subaru of Greenville made a large donation of blankets to the Leo W. Jackson Cancer Center in Greenville. It is our hope that these blankets will provide warmth and comfort to the patients during their battle. Thank you to everyone who participated and helped with this project.
---
Subaru Loves Pets Adoption Event - Kelsey K
On October 29th Capital Subaru of Greenville held a pet adoption event at the dealership to benefit the Humane Society of Eastern Carolina. With the help of volunteers from the HSEC the team was able to find new homes for a number of loving and appreciative pets. On top of the adoption event, Capital Subaru also collected donations of pet toys, grooming supplies, pet food and other items to present to HSEC. A big thank you goes out to all of the volunteers at the Humane Society of Eastern Carolina, the customers who made donations and to the new pet owners who adopted a new furry friend.
---
Subaru Loves the Earth - E-Waste Event - Danielle S
We would like to thank our customers for participating in our E Waste Recycling event during the month of April. With your help, we were able to prevent 2,090 lbs of carbon emissions from polluting the atmosphere. This is equivalent to saving 81 trees, 356 gallons of gasoline, 3,030 plastic bottles, and 13,936 aluminum cans. Thank you for helping strengthen the Subaru Love Promise!
---
April 1-30, 2015 E-Waste Recycling Event - Molly M
Throughout the month of April, we are hosting an E-Waste Recycling Event in our store to collect unwanted electronics. We've arranged to work with a company who will responsibly collect, re-purpose, and recycle your electronic waste. Help us protect our environment. Just show up with your E-Waste and we'll do the rest! The first 50 customers who contribute will receive a complementary environmental badge of ownership. We will accept: LCD Monitors, Cell Phones, Laptops, Tablets, CRTs up to 40 inches, Video Games/Consoles, Fax Machines, DVD/VCR Players, Printers, Computer Peripherals, Switches/Routers, Cords and Wires.
---